Class Policies & Procedures
Class Policies & Expectations
1. Arrive before class starts. If you are late, you will not be allowed into the class.
Out of respect for instructors and other students, late arrivals are not permitted to participate in class. Our classes are short, and it is unfair to make other people wait or repeat the beginning of class for a late student. If you are late, your class fees will not be refunded. If you know you will be a few minutes late, call the front desk if possible. On occasion, circumstances may allow a class to start a few minutes late for you.
2. Bring photo ID.
Please bring your TechShop ID whenever you come to TechShop; you will need it to access the shop. If you are not a TechShop member, bring another form of photo ID, such as Emirates ID, driver's license or school ID.
3. Dress appropriately for the shop area in which you're working.
TechShop wants to ensure that you build your dreams safely. For this reason, we have designated a dress code and require that safety equipment be worn in certain areas of the shop. Please read the following and dress appropriately for your class:
Closed toe shoes must be worn at all times, in all areas.
In areas that involve working with high temperatures, like welding, metal casting and powder coating, long-sleeved shirts and long pants are required. Clothing should be made from natural fibers or leather, so it doesn't melt if it contacts something hot.
When using most power tools, especially drills, saws, mills and lathes, you must wear short-sleeved shirts, pull back long hair securely and remove any hanging jewelry.
Check your class listing for mandatory and advisable safety equipment.
Equipment or clothing listed as mandatory must be worn or used while working with that equipment or taking that class. TechShop will have loaner items for mandatory safety equipment, with the exception of shoes and other types of clothing. Many of these items will be for sale in the lobby; arrive early if you need to borrow or purchase safety gear.
Equipment listed as advisable is a suggestion from TechShop, but not mandatory. These items are generally not available as loaners from TechShop. They may be for sale in the lobby.
For your own safety, you will not be allowed to attend class if your attire is deemed inappropriate. If you have any questions about your class or what to wear, please contact the TechShop location where your class is scheduled. Additional information about required and recommended safety equipment and clothing is listed in the class description online.
4. Be ready to participate. Please turn off your phone or switch to silent mode and join the class.
Your time is important. So is everyone else's. In order to maximize the class experience, you will need to be both physically and mentally present.
Give your phone a break… turn it off or switch it to silent mode when you get to class
Students who are disruptive or distracted will be asked to leave the class, and they will need to take it again
Class Pricing, Coupons & Passes
TechShop's class tiers divide our class offerings into three easy-to-remember price points:
Software & Theory Classes
SBU and Non-SBU
Premium SBU
Named for their respective class tiers, TechShop class coupons or class packs can be used for any class up to and including that price point.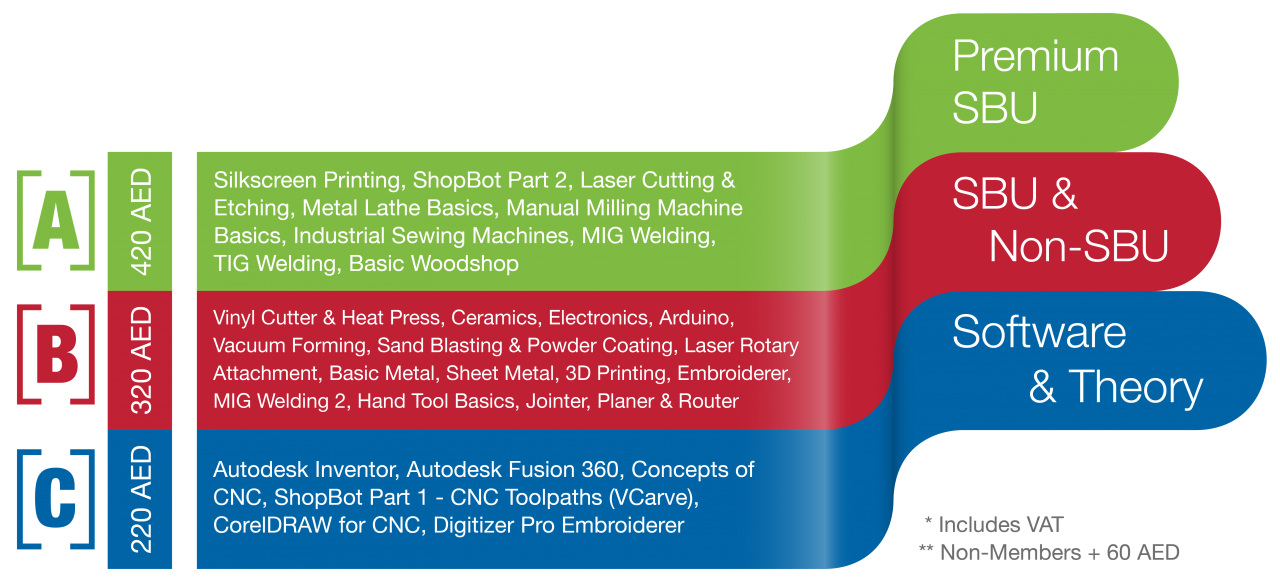 Payments, Refunds & Cancellation Policy
See our Payments, Refunds and Cancellations for more information.
Changes to our Class Policies & Procedures
If we decide to change our Class Policies and Procedures, we will post those changes on this page, and/or update Class Policies and Procedures modification date below.
This policy was last modified on February, 2017.
Contacting Us
If there are any questions regarding this policy, you may contact us using the information in Contact us.