TIG Welding SBU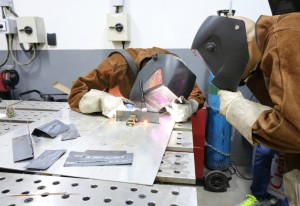 Welding is the process of fusing materials together.
Learn how to use the basic TIG (tungsten inert gas) welding equipment in this Safety and Basic Use (SBU) class. Get started creating quality weld beads on mild steel. While this class practices on thin steel, the TIG welder is capable of welding material up to 1.3 mm (1/2") thick.
With extensive practice, TIG welding can be used with a wide variety of different metals, producing a very pure, precise, and attractive weld.
Project: Guided practice with the instructor
Prerequisites: None! However, MTL103 Basic Metal Shop SBU is recommended.
Equipment access: TIG welder
Minimum age: 12
Safety:
Mandatory: Closed-toed shoes made of natural fibers or leather, natural fiber or leather long sleeved shirt, natural fiber or leather long pants. Welding hood, gloves and jacket will be provided by TechShop.
Advised: Leather welding jacket, leather welding pants, leather boots, respirator, and hearing protection.
Supervision requirements:
During class, all 12 to 14-year-old students must be accompanied by a parent or guardian who is also enrolled in the class. When using the machines outside of class time, 12 to 14-year-old members must be accompanied and supervised by a parent or guardian who has passed the SBU.
Members who are 15 years and above can, after successfully passing this class, use this equipment for your projects whenever you work at TechShop as a member!
* Membership is verified at the time of the class session. Be sure to bring your badge.
---
| | |
| --- | --- |
| Member Price: AED 420.00 | includes VAT |
| | |
| --- | --- |
| Non-Member Price: AED 480.00 | includes VAT |
---
Monday, 28. September 2020
18:00 - 20:00 (2 hrs)
2 seats available
2 seats total
Member Price: AED 420.00
Non-Member Price: AED 480.00
add to cart
Wednesday, 14. October 2020
17:30 - 19:30 (2 hrs)
2 seats available
2 seats total
Member Price: AED 420.00
Non-Member Price: AED 480.00
add to cart
Saturday, 17. October 2020
11:00 - 13:00 (2 hrs)
2 seats available
2 seats total
Member Price: AED 420.00
Non-Member Price: AED 480.00
add to cart