PCB Design Part 2: Layout and Fabrication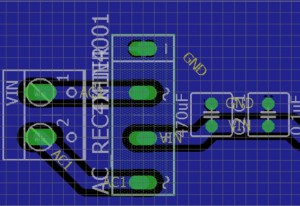 Ever wanted to make your own PCBs? In this class you will learn how to design the layout and fabricate your own Printed Circuit Boards. Layout is a critical step in order to have your design ready to generate your manufacturing files. You will use Autodesk Eagle to create your layout, bring your schematic from the previous class to continue working on your first design.
You are now one step closer to making your own PCBs!
Project
Prerequisites & Other Requirements
Class Time & Duration
Cost
Member Price*: AED 320 per student
Non-Member Price: AED 380 per student
*Membership is verified at the time of the class session. Be sure to bring your badge.
Age & Supervision requirements
Minimum age: 8
Maximum age: None!
During class, all 8 to 11-year-old students must be accompanied by a parent or guardian who is also enrolled in the class. When working on further projects at Makerspace, 8 to 11-year-old members must be accompanied and supervised by a parent or guardian.
Members who are 12 years and above can come to Makerspace for your projects, whenever you work at Makerspace as a member!
Please refer to our Minors & Shop Access Policies for more information.
Number of Students
Minimum number of registrations: 2
Maximum number of registrations: 6
Please note that this class requires a minimum number of TWO registrations to proceed.
If registrations do not reach this number, Makerspace retains the right to cancel the class.
Registrations over this limit will be placed on a waiting list.
Class fees are not refunded, but credited for future classes in case of cancellation. Please refer to our Payments, Refunds & Cancellations for more information.
Safety
Closed-toed shoes are mandatory for all participants. Open-toed footwear of any kind is not permitted and unfortunately if this requirement is not met, we will not be able to allow access to the facility.
---
| | |
| --- | --- |
| Member Price: AED 320.00 | includes VAT |
| | |
| --- | --- |
| Non-Member Price: AED 380.00 | includes VAT |
---