Wood Lathe Basics SBU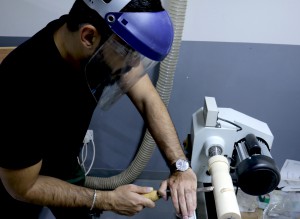 Foundational knowledge of woodturning requires hours of practice to cement!
In this Safety and Basic Use (SBU) Class, you will learn the principles and practices of woodturning on the Holzstar 1100 lathe. Both spindle turning and faceplate turning techniques will be demonstrated, furthermore, the safe use and care of wood turning tools will also be discussed. In addition to the wood lathe machine, other machines from the wood shop will be used to prepare the wood for turning.
This class is the perfect companion to the Basic Woodshop SBU, Hand Tool Basics and Jointer, Planer and Router SBU classes.
This Safety and Basic Use (SBU) class is a prerequisite for the equipment and machines to be used independently at Makerspace Al Zeina!
Contact the Front Desk 02 558 8624 for more information or sign up directly by booking a seat below.
Project
Guided practice with instructor
Class materials include one 10x10cm (4"X4") and one 15x15cm (6"X6") solid wood pieces
Tips
Prerequisites & Other Requirements
The class will be conducted in English.
Successful completion of Basic Woodshop SBU prior to taking this class.
Equipment Access
Members can use the following equipment during their membership after successfully passing this Safety and Basic Use (SBU) class:
Class Time & Duration
Cost
Member Price*: AED 420 per student
Non-Member Price: AED 480 per student
*Membership is verified at the time of the class session. Be sure to bring your badge.
Age & Supervision requirements
Minimum age: 12
Maximum age: None!
During class, all 12 to 14-year-old students must be accompanied by a parent or guardian who is also enrolled in the class. When using the machines outside of class time, 12 to 14-year-old members must be accompanied and supervised by a parent or guardian who has passed the SBU.
Members who are 15 years and above can, after successfully passing this class, use this equipment for your projects whenever you work at Makerspace as a member!
Please refer to our Minors & Shop Access Policies for more information.
Number of Students
Minimum number of registrations: 1
Maximum number of registrations: 2
Registrations over this limit will be placed on a waiting list.
Class fees are not refunded, but credited for future classes in case of cancellation. Please refer to our Payments, Refunds & Cancellations for more information.
Safety
Mandatory:

Closed-toed shoes are mandatory for all participants. Open-toed footwear of any kind is not permitted and unfortunately if this requirement is not met, we will not be able to allow access to the facility.

Eye protection and short sleeves.

Pull back hair, remove all jewelry, and do not wear gloves.


Advisable:
---
---
| | |
| --- | --- |
| Member Price: AED 420.00 | Including VAT |
| | |
| --- | --- |
| Non-Member Price: AED 480.00 | Including VAT |
---