The Genie Stick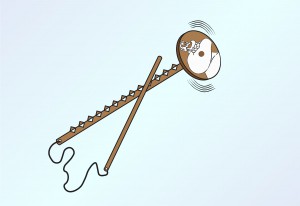 The STEAM program covers the areas of Science, Technology, Engineering, Arts and Mathematics.
Looking for an exciting class once a week for your young innovator? Engage and inspire your kids this break with a unique experience at Makerspace STEAM program.
Have your kids learn science and apply it to solve practical engineering challenges. Your young innovators will learn how to use state-of-the-art technology and how mathematics is useful to create projects. Let your little ones dive deep into science while embracing their creative side.
Contact the Front Desk 02 558 8624 for more information or sign up your kid directly by booking a seat.

The Genie Stick
Class Content
The folk toy known as the Genie, is reputed to have roots at least as far back as ancient China. One of the sticks is notched with a propeller. The second stick is rubbed along the notches causing vibration, However, adding a direction to the vibration using one finger will result in the rotation of the propeller.
Learning Outcome
What does vibration do?
> Vibrations: Friction, rotational vibration and rational motion.
How to guide vibration?
> Positioning of fingers: There is a side on which the propeller turns counter clockwise, and a side where it turns clockwise.dies
Origins of the Genie Stick?
> Origins: Is reputed to have roots at least as far back as ancient China.
Class Time & Duration
Please see the scheduled class time and duration below. In case this class is not scheduled or already fully booked, please contact our Front Desk team via info@makerspace.ae
Cost
Age & Supervision requirements
Minimum age: 8
Maximum age: 15
No parental supervision is necessary! Kids will be supervised by Makerspace Al Zeina staff!
Prerequisites & Other Requirements
The class will be conducted in English.
No other class prerequisites apply.
Number of Students
Minimum number of registrations: 4
Maximum number of registrations: 12
Safety
Closed-toed shoes are mandatory for all participants. Open-toed footwear of any kind is not permitted and unfortunately if this requirement is not met, we will not be able to allow access to the facility.
---
---
| | |
| --- | --- |
| Non-Member Price: AED 180.00 | |
---