Christmas edition Ceramics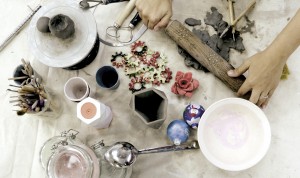 Learn important ceramics skills and have fun with a group of Ceramics enthusiasts at our shop!
This workshop is dedicated for you if you are looking for a mix between education and a hands on experience with ceramics forming, firing and glazing processes in a fun and relaxed environment. With an extended time to experiment on your own in our shop! This is a week of ceramics building and glazing, a unique experience to learn the basics or extend your knowledge in the topic, and of course have the time needed and support to build and finish your customized items.
We are all looking forward to a festive season, and for Christmas this year, take the time to make your own home and tree decorations, or to give your dear ones a heart-warming gift hand made by you!
Workshop procedure
This is a 2 session workshop spread over a week of time. Please see the timings below for when the workshop begins!
Duration of each workshop session is 3 hours, which are guided by a professional instructor and provide time to experiment on your own
Free access to TechShop facilities as a member, the ceramics area and hand tools for a week to continue creating your ceramics projects
We will fire your work after the first session, before glazing the pieces on the 2nd session. Glazing will have to be finished right after the 2nd session, so that we can fire your objects and have them ready for you to pick up.
Workshop Times and Details
Workshop 1: Saturday 7th and Saturday 14th of December 2019 from 11:00 - 14:00
Workshop 2: Sunday 15th and Sunday 22nd of December from 16:30 - 19:30
Equipment & Materials
Materials included in the workshop are fee clay for first session and free premixed glazes for second session
Kiln firing done by our staff
Free coffee and popcorn available during the week of membership
Prerequisites
Age & Supervision requirements
Minimum age: 8
Children who are

8

- 12 years old can participate in this workshop accompanying their participating parents at a very reduced price of only 100 AED for the child.
Children who are

12 years old and above

can participate in this workshop without parental supervision
Safety
Closed-toed shoes are mandatory. Open-toe footwear of any kind is not permitted and unfortunately if this is not met, we will not allow access to the facility.
---
| | |
| --- | --- |
| Members and Non-members: AED 350.00 | |
---