Halloween edition Textiles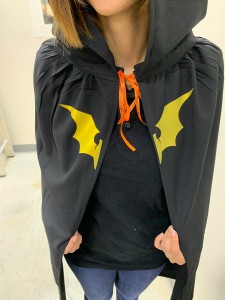 Learn important Textiles and crafts skills and have fun with a group of fashion and Halloween enthusiasts at our shop!
This workshop is dedicated for you if you are looking for a fun and hands on activity with fabrics, sewing machines and other arts and crafts tools for personalizing your design. This edition of the workshop is dedicated for Halloween, with an instructor, you will learn how to make a kids' size cloak and decorate it with your personalized designs from vinyl pieces to get a great and unique Halloween cape.
Workshop procedure
This is a 2 session workshop. Please see the timings below for when the workshop begins!
Duration of each workshop session is 3 hours, which are guided by a professional instructor and provide time to experiment on your own.
Workshop Times and Details
Workshop 1: Tuesday 15th and Wednesday 16th of October 2019, Timing from 10:00am to 1:00pm
Workshop 2: Monday 21st and Tuesday 22nd of October 2019, Timing from 4:00pm to 7:00pm
Equipment & Materials
Materials included in the workshop are black fabric and vinyl pieces
Free coffee and popcorn available during the week of membership
Prerequisites
Age & Supervision requirements
Safety
Closed-toed shoes are mandatory. Open-toe footwear of any kind is not permitted and unfortunately if this is not met, we will not allow access to the facility.
---
---
| | |
| --- | --- |
| Members and Non-members: AED 470.00 | |
---