Robotics Camp - [Level 1]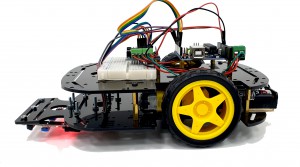 Build and Programme your own Robot!
Students can unleash their creativity, have fun building and programming robots in this inventive and competitive project!
As part of the session, our trainer will take students on an immersive experience to understand the very basics of robotics and get hands on practical experience on the different areas of robotics. Participants will work intensively to build a robot and programme with different behaviours by adding and removing components and writing codes.
This is a great programme to get hands-on coding with Arduino and learn about sensors and electronics. Students will use tools, materials and components available at Makerspace Al Zeina to assemble and modify their own robot. The Winter Robotics Camp is a five-day hands-on workshop, where participants will learn to design and build an interactive obstacle avoiding robot! They will be working on two behaviours: movement design and control via code and avoiding obstacles by using an IR sensor. At the end of this programme students will keep their projects to continue their exploration and learning journey at home! As the Robot design is open-ended they can fabricate parts and modify the design and functionality of the robot.
The Swiss based start-up, ETHAFA will deliver an introductory session at the start of this programme through an approach based on stories and tangible activities, using the Steammians kit.
Camp Schedule
| | | |
| --- | --- | --- |
| Day | Date | Session Description |
| 1 | Sun, 19 Dec. | Introduction to Electronics, session by ETHAFA, using the STEAMMIANS KIT Board |
| 2 | Mon, 20 Dec. | Designing and Laser Cutting the Robot Chassis |
| 3 | Tue, 21 Dec. | Assembling Robot Mechanical Parts and Logic Board |
| 4 | Wed, 22 Dec. | Programming the Robot |
| 5 | Thu, 23 Dec. | Field Test of the Robot and Group Discussion "How can robots help save planet earth?" |
Camp Details
The programme runs from Sunday, 19th to Thursday, 23rd of December 2021.

Daily sessions run from 9:30am to 1:30pm.

Member & Non-Member Price: AED 1,060 per student

Sessions will be held on daily basis at Makerspace Al Zeina facility from Sunday to Thursday.

No parental supervision is necessary during sessions!

Minimum age: 8
Maximum age: 12

Due to health and safety concerns the number of participants is limited.

Minimum registrations: 4

(see our Class Policies for more information)

Maximum registrations: 12

Parents will be notified

48 hours prior to the camps' start in case of any changes

.

The camp will be conducted in English.

We cannot offer drinks or snacks, so

please bring your own water bottles

.

Should you notice the

slightest signs of illness or unusual tiredness

,

we kindly ask you to stay at home.

Social distancing is applied, participants are requested to

wear masks at all times

.


Closed-toed shoes are mandatory

for all participants.

In case you have any more questions, please call or write us to register your children. Bookings are only effective upon receipt of payment.

{email}

+971 2 5588624

+971 2 5588624
---
---
| | |
| --- | --- |
| Camp Fee for 19. - 23. Dec.: AED 1,060.00 | *VAT 5% and materials included in camp fee |
---