3D Printing Basics online workshop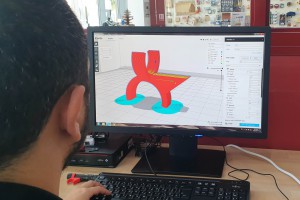 If you are curious about 3D printing technology and want to design and produce an object, or even if you are planning to purchase your first printer, this online workshop will be the perfect start in discovering the 3D printing world.
This is a one session workshop, where you get introduced to the very basics and principles of FDM (Fused filament fabrication) 3D printing. By taking part of this workshop, you will learn how to achieve water tight 3D models, export your 3D models in a proper format for slicing software. In addition to understanding the behaviour of two materials, ABS and PLA.
The workshop will cover in depth slicing a model in Cura and preparing simple and complex models for successful 3D printing. Furthermore, we will talk about few available printers' models and how to create printer, material and quality profiles in Cura to manage the different machines and resolutions required.
Project
Learn the basics of FDM 3D printing and effectively prepare simple and complex 3D models to be 3D printed, considering material properties and behaviour.
This workshop gives you great knowledge about the topic however it does not give you access to our Ultimaker machine, if you wish to get access to the machine you need to do so in person, by completing this online workshop you will get 40% discount on the Ultimaker 3D printer SBU here.
Learning Outcomes
What is 3D printing? Why it is Important?
Different type of 3D printers.
What type of filament do we use?
How to get a 3D printing file? (online or export / search or design).
What is slicing software (Cura)?
Interface of Cura.
Prepare a file (.STL) and do the necessarily modifications.
Hacks & Tricks.
Introduction to different brands of FDM 3D printers.
Pre-printing process (Slicer, loading filament, .. etc).
Post-printing process (cool down, remove printed pcs).
Prerequisites: None!
Minimum age: 12
Sessions will be conducted via Zoom, pre-installation and setup of Cura 4.3 is required.
---
| | |
| --- | --- |
| Members and Non-members: AED 149.00 | Members and Non-members |
---