CorelDRAW Basics for CNC online workshop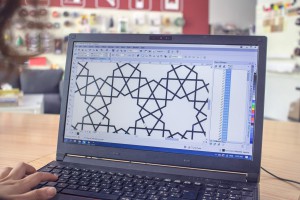 Makers and designers alike agree that vector drawing is the starting point of all CNC fabrication. CorelDraw is an extremely powerful 2D vector graphics drawing program similar to Adobe Illustrator. Almost any product or invention that you imagine can begin in CorelDraw.
In this two-session online workshop, you will learn the basics of the interface and navigation, effective drawing techniques, how to convert bitmaps to vectors in one step, creating clean and optimized vectors, and the most efficient techniques to prepare your files for CNC operations, such as Laser Cutting Vinyl Cutting.
Project
Learn the basics of CorelDraw and the different operations and modifiers available to draw and manipulate 2D graphics. in addition to the methods used to prepare files for Laser cutting purposes.
This workshop gives you great knowledge about the topic however it does not give you access to our Universal Laser Cutting machine, if you wish to get access to the machine you need to do so in person, by completing this online workshop you will get 40% discount on the Laser Cutting and Etching SBU here.
Learning Outcomes
Session 1: Basic Corel draw skills

How to navigate through the software.

How to adjust size of your layout and change units of measure.

Working with basic tools such as shaping, smart fill tool with additional adjustments and scaling.

Adding and learning how to use the docker tools such as alignment, step and repeat and object properties.

Shaping the drawing by creating boundary, welding and simplifying.

Session 2: More commands and preparing files for CNC cutting.

Vectorising and editing images brought from the internet converting them into vectors, and what files work on corel draw.

Editing these files and using the tools we have learned in the previous session.

What to do when something needs to be cut, engraved or etched.

Any final additional questions or queries.
Workshop Dates
Session 1 Sunday 27th of September from 18:30 to 20:30.
Session 2 Tuesday 29th of September from 18:30 to 20:30.
By signing up to this workshop you are automatically enrolling into two full sessions.
Prerequisites: A working knowledge of the Windows operating environment
Minimum age: 12
Sessions will be conducted via Zoom, pre-installation and setup of a trial version of CorelDraw 2020 or any other version is required. Participants should use a laptop and a mouse to do the workshop practical work.
---
| | |
| --- | --- |
| Members and Non-members: AED 299.00 | Members and Non-members |
---