Hands on beginner's level wood joinery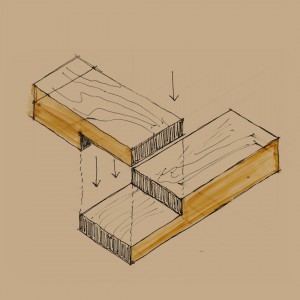 Makerspace Al Zeina invites you to join the community of wood lovers and enrol in our upcoming beginner's sessions in learning the basics of wood joinery.
These weekly sessions are designed to introduce furniture making enthusiasts to basic wood joinery and how it can be used to build furniture.
Makers will gain knowledge on different types of wood and their uses, different types of joinery and, gain knowledge and experience with hand tools (pull saws, chisels, mallets), sharpening chisels and the process of laminating, sanding and finishing a piece of wood. Makers will leave the course with a stool designed and fabricated by them using the knowledge gained in the course.
These sessions are taught by Nourhan Rahhal, a maker and Athath Fellow!
Sessions dates and topics:
Wood Joinery Sessions are scheduled every Sunday of the week between 16:00 - 19:00
You can pick and choose any topics you like!
Upcoming Sessions
Session 1 (08/05/2022): Box Joint

General introduction to the woodshop and hand tools, types of wood, and joinery
Makers will build a box (jewelery, coin, accessories box w/ cover)

Session 2 (22/05/2022): Mortise + Tenon

Learn about the different types of chisels and how to sharpen them using a water stone
Makers will make a wooden mallet

Session 3 (29/05/2022): Dovetail Joint

Preparing a plank of wood: Planning and jointing (demo only), learn about soft and hard woods and the difference between wood grains
Makers will build laptop holder

Session 4 (05/06/2022): Tongue + Groove

An introduction to the different types of clamps, wood lamination, planning, post planning and squaring wood
Participants will make a sushi board

Session 5 (12/06/2022): Half Lap/ Corner Halving

Introduction to function of dowels and biscuits joints, Butt joint + Mitered butt joints
Makers will build a phone holder

Session 6 (19/06/2022): Project session 1

Stool designing; introduction to project + start designing

Session 7 (26/06/2022): Project session 2
Session 8 (03/07/2022): Project session 3

Finishing stools and applying finishes and Sanding methods
Take your product home!
Prerequisites & Other Requirements
The class will be conducted in English.
No other class prerequisite apply.
Cost
Class Price: AED 285 per session
Age & Supervision requirements
Minimum age: 15
Maximum age: None!
Safety
We have implemented all necessary precautionary measures to ensure that all our makers can enjoy this workshop in safe and clean environments. We cannot offer drinks or snacks, so please bring your own water bottles. Should you notice the slightest signs of illness or unusual tiredness, we kindly ask you to stay at home.

Social distancing is applied, participants are requested to wear masks at all times.

Closed-toed shoes are mandatory for all participants. Open-toed footwear of any kind is not permitted and unfortunately if this requirement is not met, we will not be able to allow access to the facility.
If you need any assistance registering for multiple sessions or for any other queries, please do not hesitate to reach out to us:
Phone: +971 2 5588624
---
---
---