Design Technology Club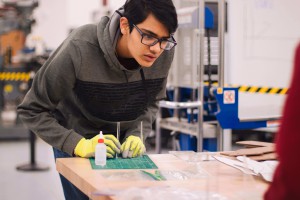 An evening dedicated to high school students (15-19 years old) that require a place and supervision to work with light forms of machinery with professional training.
Every Monday from 4:00 to 7:00pm

September 20th to December 6th, 2021

110 AED per session

Ages 15 to 19 years
An open workshop evening dedicated for senior high school students that need a place and some guidance, in addition to basic machine and tools training, to actualize their design projects, we invite you to bring your ideas, our spaces is the perfect playground for prototyping and making.
This is a self-driven session, it's your idea after all and our space!
The cost includes access to Makerspace Al Zeina, basic machine and tools training as required, support from staff.
Participants are allowed to work in the soft arts area after receiving training to operate the needed equipment, access to woodshop and metal shop is only permitted under the supervision of staff or a trained guardian.
It's recommended that you pre-book, as the spaces are limited to maintain social distancing.
{email}
+971 2 5588624
+971 2 5588624
---