This years anniversary is all about our members. You get to
Mix & Match
your personal favourite combination of a
membership
and
a number of classes.
Choose one of the following combinations and get a
40% discount*
:
1 Year Membership and 3 Classes
OR
1 Month Membership and 3 Classes
OR
3 Months Membership and 1 Class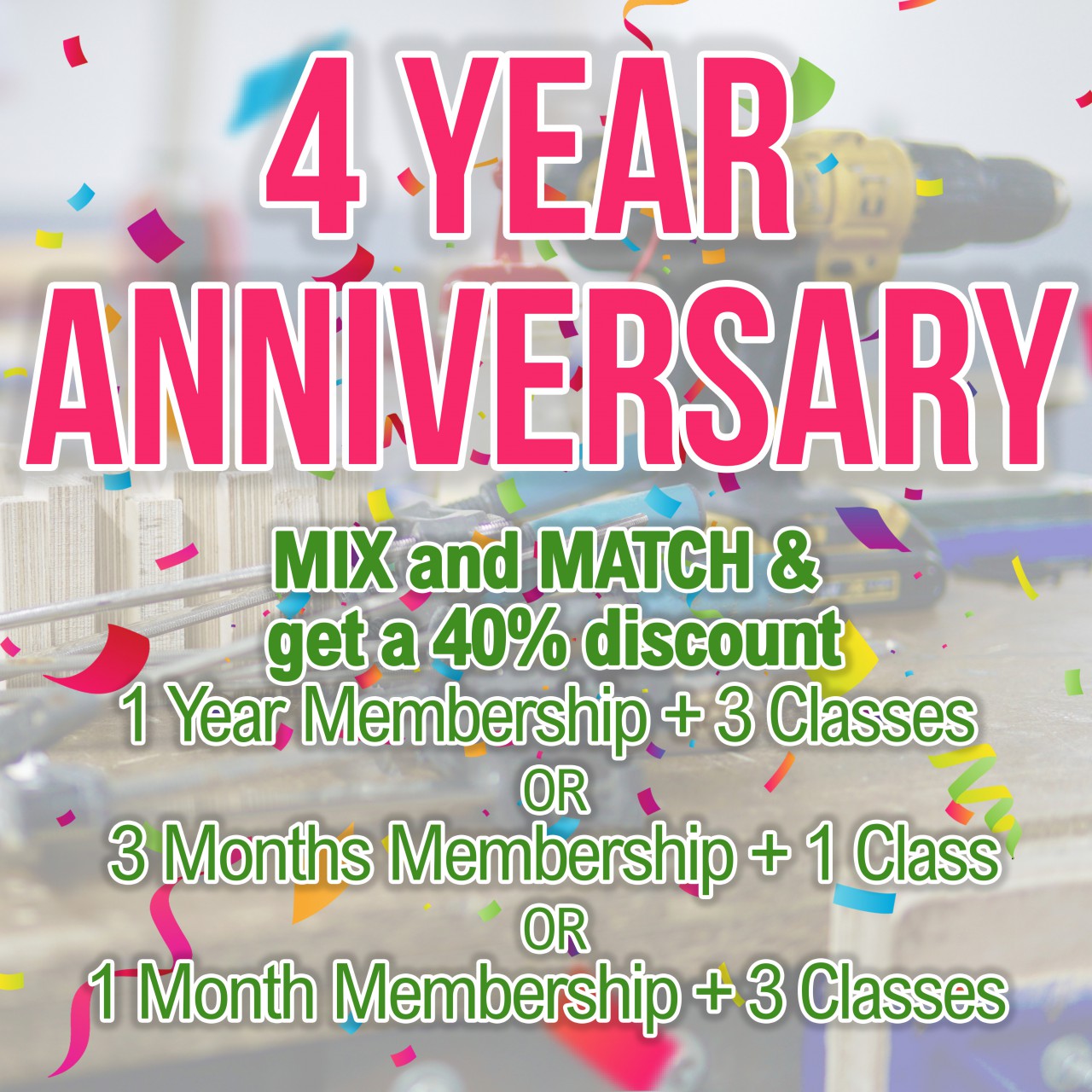 *Offer Terms & Conditions
Offer can be purchased one time per person only, unless they want to purchase it as a gift for someone else.
Offer is available for purchase from 01.03.2020 to 30.05.2020.
Bookings made with this offer do not qualify for refund or cancellation, re-scheduling only.
Promotion cannot be applied in addition to other offers or discounts.
Identification will be required to verify minimum age requirements. Please check the Minors & Shop Access Policies on our website: www.makerspace.ae/minors-and-shop-access
**Membership Terms & Conditions
The purchased membership will be registered to your personal account.
The available memberhsip types and prices for the Annual-, 3 Months- and 1 Month Memberships can be found on our website: https://www.makerspace.ae/membership
Memberships must be activated within one month from the date of purchase. In the case of an activation date being unspecified at time of purchase, membership will automatically be activated one month from this date.
Memberships are activated when you first enter the shop, whether to participate in a class or to stay in the shop for longer than 30 minutes.
For safety reasons, some classes and equipment have age minimums and some equipment requires successful completion of a Safety and Basic Use (SBU) class prior to independent use with a membership. Please see our Membership Policies & Procedures for more information: www.makerspace.ae/membership-policies-and-procedures
***Class Terms & Conditions
Classes will be handed out in form of coupons. The class coupons are registered in your personal account. Ensure that your personal account is activated (a valid email address will be required) at the time of purchase to guarantee online access via our website: www.makerspace.ae
Class Coupons will be valid 3 months (until the end of the month) from the date of purchase. If a class coupon is not used to register in a class within that time frame, the coupon will expire.
The following class coupons are available at membership price for this offer: Premium SBU [A] for 420 AED, SBU & Non-SBU [B] for 320 AED, and Software & Theory [C] for 220 AED. View all available classes on our website: www.makerspace.ae/class-categories
Class coupons are not valid for STEAM classes, camps or workshops.
Class coupons are non-transferable to other members or non-members of Makerspace Abu Dhabi.