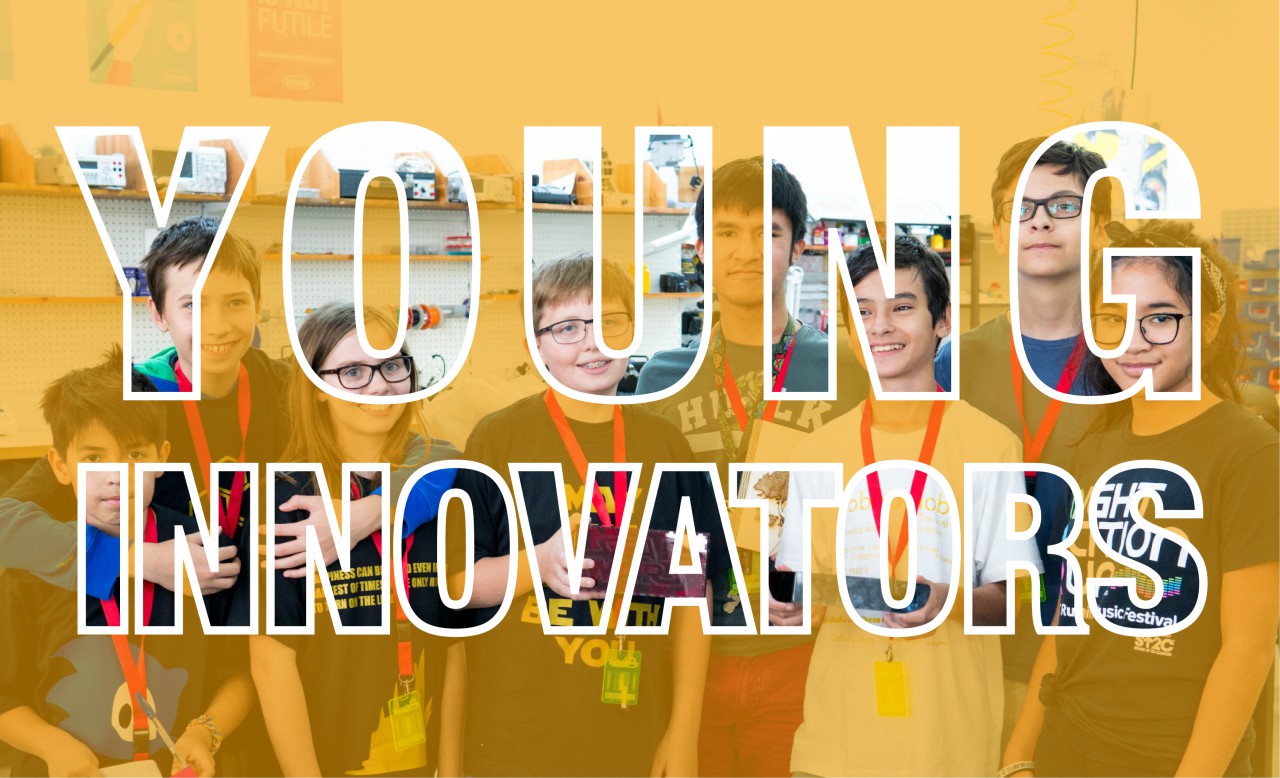 Youth in Regular Classes at TechShop
All young innovators from 8 years onwards are welcome to TechShop's regular classes. Please see our policies and procedures for Minors & Shop Access for more information.
Youth Only Programs at TechShop

TechShop's Youth Only Program provides you supervised multi-day camps during holidays and single classes throughout the year. Your young ones will engage in a continuous learning curve passing through various levels and subjects in the following class categories:
STEAM



STEAM (Science, Technology, Engineering, Arts and Mathematics) is a hands-on multidisciplinary educational program, where students learn science and apply it to solve practical engineering challenges in an innovative and creative approach! "STEAM removes limitations and replaces them with wonder, critique, inquiry, and innovation".

Our STEAM program aims at encouraging students to develop inquiry, critical thinking, collaboration, planning and problem-solving techniques. Our approach is project-based, always involving and connecting two or more standards from different knowledge areas at a time.

In addition to the theory behind each exercise, dedicated sessions will focus on boosting hand tooling capabilities, TechShop's STEAM room is equipped with a workstation for each student providing soldering irons, screwdrivers, vice, measurement tool, and many more. In addition to the workstations, students have access to a drill press, hand drill, scroll saw, hot glue gun, etc. under direct supervision of a teacher. Students can experience and understand technical phenomena in self-conducted and exciting experiments. In addition, the acquired knowledge is also translated into real products through manual DIY work.
Design & Build



D&B or Design and Build, is a very popular and unique hands-on educational program, a dynamic and non-linear approach to design thinking driven by the notion of making, materiality, prototyping and innovation. It's an alternative to the conventional desk based and medium driven design process and the pure technical, industrial making process.

The program focuses on extending and harnessing kids' skills, design abilities, problem solving techniques, team work and collaboration, the engagement of feedback and evaluation loops in project development, decision making, understanding materials physical properties, possibilities and limitations, estimating cost, planning, execution and documentation.

TechShop is equipped with a workstation for each student and access to various machines and tools within one facility, this will accelerate the learning and making experience. Under the supervision of a team of experts, kids can experience and understand technical phenomena in self-conducted and exciting experiments. In addition, the acquired knowledge is also translated into real products through manual DIY work.
Robotics



An interactive hands on program focusing on both engineering and programmable aspects of robotics in a fun and dynamic environment to unleash the kids creativity.

Whether assembled or fabricated, kids will get an opportunity to understand and put together the different systems that make a robot, by using the various machines available within our facility to design, fabricate and alter the parts, alongside with programming and code development happening simultaneously.
School Excursions at TechShop
Class trips present a unique opportunity for school children to get a one day, hands-on experience of TechShop's different departments, ranging from prototyping, 2D design, 3D design, laser cutting, textiles, wood shop, metal shop, STEAM, textiles, arts and crafts and ceramics (some age restrictions apply to younger learners).

Students attend in groups of 15-30 at a time, and will get 2 practical, fast-tracked sessions covering 2 areas of focus of their choice.

Our technical staff and instructors will be on hand to answer any questions, and will give the students an interactive and dynamic experience to showcase the wide application and common uses for each of our workshop areas, as well as the creative possibilities presented by combining various techniques together.

This option can also be tailored to focus on specific subjects from the school curriculum, for example design technology topics, or digital art and design. The school can dedicate a day to use our facility and expertise to enhance the students' knowledge in certain areas and gain practical experience to support the development of their projects and assignments.

Target Age group 8 - 11* and 12 - 17 years old (*Program content differs slightly to ensure safety and machine access appropriate to each age group).
Visit the TechShop Makerspace Facility for FREE Tour
Visit us for a tour exploring the makerspace to find out more about our Youth Education Education - as well as our regular memberships and class offerings, available to all ages from 8 - 99 years old!

TechShop Tours are now taking place at the top of the hour between Saturday to Thursday from 9am to 9pm & Friday from 2pm to 9pm (*free tour, no booking required).