Robotics Online Camp Level 1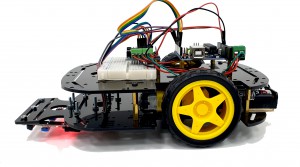 Build and Program your own Robot!

Students unleash their creativity, have fun building and programming robots in this creative and competitive program!
As part of the session, our trainer will take students on an immersive experience to understand the very basics of Robotics and get hands on practical experience on the different knowledge areas of Robotics. Participants will work intensively to build a robot and program it with different behaviours by adding and removing different components and writing different codes.
This is a great program to get hands on coding with Arduino, and learn about sensors and electronics. Students will receive a kit and will have to use the tools, materials and components available in the kit to put together and modify their own robot. We will be working on two behaviours: Control via Bluetooth and following a line on the floor. At the end of this program students will keep the kit with them to continue their exploration and learning journey! As the Robot design is open-ended they can in the future fabrication parts and modify the design and functionality of the robot.
Online After School Robotics Level 1 Schedule
The subscription to October program is closed! but you can enrol in our upcoming program in November, the dates are below:
Age & Supervision requirements
Minimum age: 8

Maximum age: 12
No parental supervision is necessary during sessions!

Prerequisites & Other Requirements
The camp will be conducted in English.
Sessions will happen online using Zoom platform. It's required to have a laptop.
Cost
Online offer price: AED 499 per student.
Online registration will close 72 hours before program starting date to allow time to deliver program kits.
Safety at home
Closed-toed shoes are mandatory for all participants while working with tools.
If you need any assistance, please do not hesitate to reach out to us:
e-mail: info@makerspace.ae
Phone: +971 2 5588624