Jointer, Planer and Router SBU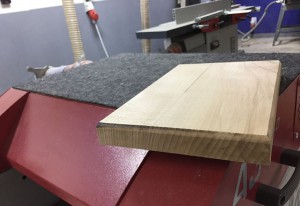 In this Safety and Basic Use (SBU) class, learn proper techniques and how to safely operate the jointer, planer, hand-held and table-mounted router.
Use these woodworking tools to turn rough lumber into finished boards (achieve precise thickness, square edges and flat surfaces) as well as create complex profiles for edge finishing and joinery operations. Say goodbye to the constraints of lumberyard wood and the high price of mail order wood. Say hello to affordable custom woodworking projects!
Project: Cutting board
Prerequisites: Successful completion of WOD101 Basic Woodshop SBU prior to taking this class.
Equipment access: Jointer, planer, table-mounted router and hand-held router
Minimum age: 12
Safety:
Mandatory: Closed-toed shoes, eye protection, and short sleeves. Pull back hair, remove all jewelry, and do not wear gloves.
Advised: Hearing protection, particle filter, or dust mask
Supervision requirements:
During class, all 12 to 14-year-old students must be accompanied by a parent or guardian who is also enrolled in the class. When using the machines outside of class time, 12 to 14-year-old members must be accompanied and supervised by a parent or guardian who has passed the SBU.
Members who are 15 years and above can, after successfully passing this class, use this equipment for your projects whenever you work at TechShop as a member!
* Membership is verified at the time of the class session. Be sure to bring your badge.