Milling Machine Basics SBU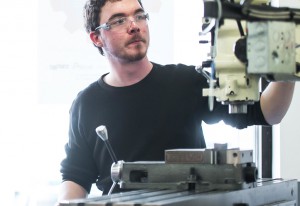 In this Safety and Basic Use (SBU) class, learn basic operations of the vertical milling machine to safely select speeds, change end mills, use the digital readout, and secure work needed to accurately machine parts. Explore the theory of how to successfully choose the correct end mill and speed setting. Work precisely with metal and plastics to cut, drill and surface parts.
Optional Project: Aluminum business card holder
Prerequisites: None. However, successful completion of MTL103 Basic Metal Shop SBU prior to taking this class is recommended.
Equipment access: Milling machine
Minimum age: 12
Safety:
Mandatory: Closed-toed shoes, eye protection, and short sleeves. Pull back hair, remove all jewelry, and do not wear gloves.
Advisable: Hearing protection
Supervision requirements:
During class, all 12 to 14-year-old students must be accompanied by a parent or guardian who is also enrolled in the class. When using the machines outside of class time, 12 to 14-year-old members must be accompanied and supervised by a parent or guardian who has passed the SBU.
Members who are 15 years and above can, after successfully passing this class, use this equipment for your projects whenever you work at TechShop as a member!
* Membership is verified at the time of the class session. Be sure to bring your badge.