ShopBot SBU – Part 1: CNC Toolpaths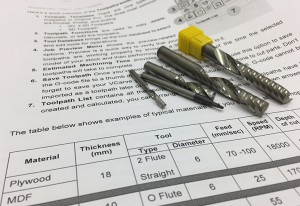 Learn the basics of CNC (computer numerical control) devices and software usage. This hands-on class will present the whole CNC process, from CAD (computer aided design) to CAM (computer aided machining) to CUT (cutting your part). Learn the essentials of calculating feeds and speeds. Understand the uses and differences between climb cutting and conventional cutting.
You will learn hands on the ins and outs of working with VCarve Pro software packages. Mastering VCarve Pro, you will be able to quickly learn how to operate the ShopBot.
VCarve Pro is an easy-to-use CNC toolpath engine that generates precision toolpaths for virtually all CNC machines. You'll learn how to convert CAD DXF files and graphic designs into GCode-based CNC toolpaths for machining high quality parts and components.
Upon successful completion of this class you will have the experience and knowledge necessary to enroll in ShopBot SBU – Part 2: CNC Router.
Prerequisites
Class Time & Duration
Cost
Member Price*: AED 220 per student
Non-Member Price: AED 280 per student
*Membership is verified at the time of the class session. Be sure to bring your badge.
Age & Supervision requirements
Minimum age: 12
Maximum age: None!
During class, all 12 to 14-year-old students must be accompanied by a parent or guardian who is also enrolled in the class. When using the machines outside of class time, 12 to 14-year-old members must be accompanied and supervised by a parent or guardian who has passed the SBU.
Members who are 15 years and above can, after successfully passing this class, use this equipment for your projects whenever you work at Makerspace as a member!
Please refer to our Minors & Shop Access Policies for more information.
Number of Students
Minimum number of registrations: 1
Maximum number of registrations: 6
Registrations over this limit will be placed on a waiting list.
Class fees are not refunded, but credited for future classes in case of cancellation. Please refer to our Payments, Refunds & Cancellations for more information.
Safety
Closed-toed shoes are mandatory for all participants. Open-toed footwear of any kind is not permitted and unfortunately if this requirement is not met, we will not be able to allow access to the facility.