Portuguese Knitting & Crochet Workshop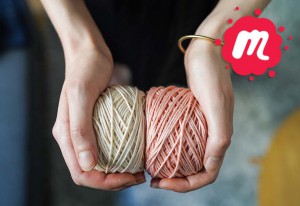 What we'll do
LEARN THE BASICS OF PORTUGUESE KNITTING AND CROCHET!
Check out the Makers of Abu Dhabi Meetup page
Join our weekly knitting and crochet Meetups, where you can work on that project you had in mind some time ago💡
_________
WHAT WILL YOU LEARN?
Knitting:
➖ How to Cast-on
➖ How to do an E-loop Cast-on
➖ How to read a knitting pattern
➖ How to do a knit and a purl stitch using the Portuguese Knitting Technique
➖ How to weave in the ends
Crochet:
➖ How to read a crochet pattern
➖ Basic stitches such as chain stitch, single crochet, double crochet, treble, slip stitch
➖ How to do a seam
_________
COST
➖ 80 AED including materials
➖ 50 AED materials not included. Bring your favorites yarns and needles/crochet hook
➖ Payment is to be made at the reception 15 minutes before the workshop
_________
WORKSHOP ORGANIZATION
➖ No previous registration is needed but we would appreciate it if you call us before coming, just to make sure, for safety reasons, that we will not have more than 8 students in a session. (Contact details: https://www.makerspace.ae/contact.html)
➖ Drop by the shop 15 minutes before the workshop to make the payment, and you'll be ready to rock!
➖ This is a 2 hours workshop, which is guided by Vania Duarte, a professional instructor. She will provide time to experiment on your own.
_________
PREREQUISITES
None! This is all about learning by doing, having fun. 🙂
_________
AGE & SUPERVISION REQUIREMENTS
Minimum age: 15
_________
DO YOU NEED HELP OR ADDITIONAL INFORMATION?
Please send a direct message to the organizers,
or contact us:
https://www.makerspace.ae/contact.html
_________
SAFETY
We have implemented all necessary precautionary measures to ensure that all our makers can enjoy this workshop in safe and clean environments. We cannot offer drinks or snacks, so please bring your own water bottles. Should you notice the slightest signs of illness or unusual tiredness, we kindly ask you to stay at home. Closed-toed shoes are mandatory. Open-toe footwear of any kind is not permitted, and unfortunately, if this is not met, we will not allow access to the facility.
Per workshop excluding materials
Per workshop including materials