Tours & Excursions
Makerspace Tours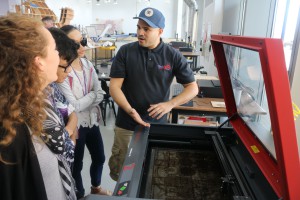 Visit the Makerspace Facility for a FREE Tour and explore the makerspace to find out more about our equipment, memberships and class offerings and much more. No booking required.
Tours are available to from 8 years onwards!
Makerspace Tours are taking place at the top of the hour between Saturday to Thursday from 9am to 9pm, Fridays closed.
Take a glance at our gallery before coming to the shop.
---
School Excursions
Class trips present a unique opportunity for school children to get a one day, hands-on experience of Makerspace's different departments, ranging from prototyping, 2D design, 3D design, laser cutting, textiles, wood shop, metal shop, STEAM, textiles, arts and crafts and ceramics (some age restrictions apply to younger learners).
Students attend in groups of 15-30 at a time, and will get practical, fast-tracked sessions covering two areas of focus of your choice.
Our technical staff and instructors will be on hand to answer any questions, and will give the students an interactive and dynamic experience to showcase the wide application and common uses for each of our workshop areas, as well as the creative possibilities presented by combining various techniques together.
This option can also be tailored to focus on specific subjects from the school curriculum, for example design technology topics, or digital art and design. The school can dedicate a day to use our facility and expertise to enhance the students' knowledge in certain areas and gain practical experience to support the development of their projects and assignments.
Target age groups from 8 - 11* and 12 - 17 years old (*Program content differs slightly to ensure safety and machine access appropriate to each age group).